Discover the Beauty of the Ring of Kerry with Our Ring of Kerry Tour
An essential part of any visit to the Emerald Isle is a tour of the world famous Ring of Kerry. Take our luxury mid-sized coach on a 180km circuit of the county.
Our experienced guides will be delighted to show you the unrivalled beauty County Kerry has to offer. Whether you're looking for an insight into Irish history, a sample of our famous local wit or simply a great photo opportunity, the Ring of Kerry Tour is exactly what you require.
Please contact Deirdre on +353 (0) 85 121 6359 or email deirdre@killarneytour.com for directions or any more information you require.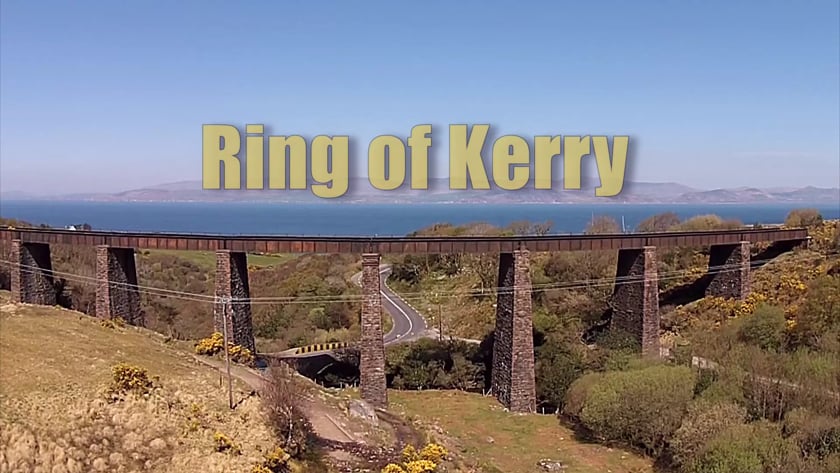 Ring of Kerry Tour Itinerary
Operates April 1st – November 30th
All times are Approximate
Pickup - Must be Pre-Booked
Outside Centra Shop, Muckross Road, Killarney
Eircode: V93 WY60
Outside Peter Marks, East Avenue Road, Killarney
Eircode: V93 PFW9
Outside Tourist Office, Beech Road, Killarney
Eircode: V93 AW26
Rock Road Coach Park, Killarney
Eircode: V93 Y861
Iveragh Rd. Bus Stop, Killorglin
Coordinates: 52.106841037080294, -9.7886159860691
Arrive: 10.15am
Depart: 11am
Kerry Bog Village* and Red Fox Inn
The Kerry Bog Village gives you a fascinating insight into how people lived and worked in Ireland in the 18th century. The village is the only one of its kind in Europe and is one of Kerry's leading tourist attractions.
* Optional (There is a separate charge to tour the village.)
The Red Fox Inn is situated beside the Kerry Bog Village. Their Irish coffees are world-famous and a discount is available to visitors who purchase a ticket for the village.
From here we continue southwest and pass through the village of Glenbeigh. Soon we catch our first glimpse of the Atlantic Ocean and the rugged Kerry coastline. Weather permitting your driver/guide will stop for photos along the way.
Cahersiveen
Arrive: 11.40am
Depart: 12.00pm
We stop in the town of Cahersiveen which is one of the westernmost towns in Ireland and, therefore, in Europe. It has remained principally a market town throughout the centuries and has never been truly affected by the tourist industry, so it remains one of the more original towns along the Ring of Kerry. One of its many attractions is the Daniel O'Connell Memorial Church, named for one of Ireland's most important historical figures. O'Connell, often referred to as The Liberator, was born just outside the town in 1775.
Waterville
Arrive: 12.15pm
Depart: 1.30pm
We make a brief stop in the beautiful village of Waterville which is stunningly situated between the wild Atlantic Ocean and Lough Currane. Uniquely, this is the only village on the Ring of Kerry that is actually right on the coast. Enjoy a walk along the seafront or "Promenade" as the locals call it, where you can taste the salt water in the air.
This is usually our lunch stop.
Coomakista Pass
Arrive: 1.45pm
Depart: 2pm
A stop at the Coomakista Pass is a must. This is one of the most photographed panoramas on the Ring of Kerry and for good reason. Here you will be over 215 metres (700 feet) above the sea with stunning views over Kenmare Bay, Abbey Island, Deenish Island, Scariff Island and much more.
Sneem

Arrive: 2.40pm
Depart: 2.55pm
We enjoy a brief stop in the picturesque village of Sneem which is immaculately kept with its traditional buildings, pubs, restaurants and craft shops all painted in an array of beautiful colours. Little wonder it is a past winner of the 'Tidy Towns of Ireland' award. A peaceful idyll where no hustle or bustle is allowed.
Ladies View
Arrive: 3.30pm
Depart: 3.45pm
Situated in the Killarney National Park, Ladies View is one of Ireland's best-known and loved panoramas. Enjoy the magnificent view of the valleys, lakes and mountains, including the Black Valley, Upper and Lower Lakes and some of the Killarney National Park.
Ring of Kerry Tour Set Down
Rock Road Coach Park, Killarney
Eircode: V93 Y861
Iveragh Road Bus Stop, Killorglin
Coordinates: 52.10683210643496, -9.788613532192771
Ring of Kerry Tour Prices
Ring of Kerry Tour Gallery